LOOKING FOR A NEW FURRY COMPANION? OPT TO ADOPT!
Local shelters and animal rescue groups are full of adoptable cats and dogs -- all sizes, ages, and breeds -- in need of permanent, loving homes. Please visit Petfinder.com to search online for available adoptable pets in your area. Adopt, don't shop!
As unwavering supporters of animal rescue and pet adoption, we do our part at Boofy's by fostering adoptable pets in-store as well as regularly hosting pet adoption events. Boofy's fostered many cats and kittens over the years at Boofy's Feline Finishing School, located at our original Golf Course store. In December 2021, in partnership with F.A.T. Katz, we launched the much larger Boofy's Kat Kastle Suites at our new second store location on Cutler. The Kat Kastle comfortably hosts up to 12 feline guests, and even more adoptable cats and kittens visit during regularly scheduled Adoption Weekends.
Scroll down to see the adoptable kitties currently in residence at Boofy's Kat Kastle Suites at our Cutler location. Visit our EVENTS page to view upcoming adoption clinics and other pet-related events we are hosting at either store location.
---
ADOPTABLE CATS and KITTENS at BOOFY'S: BOOFY'S KAT KASTLE SUITES
Boofy's Kat Kastle Suites provides luxury accommodations for adoptable cats and kittens waiting to find their forever homes. In partnership with local Albuquerque rescue organization F.A.T. Katz, we provide a loving, stimulating environment where kitties can become their best, healthy, socialized selves and meet potential adopters. All feline guests at the Kat Kastle are spayed or neutered, vaccinated, microchipped, and viral tested prior to becoming available for adoption.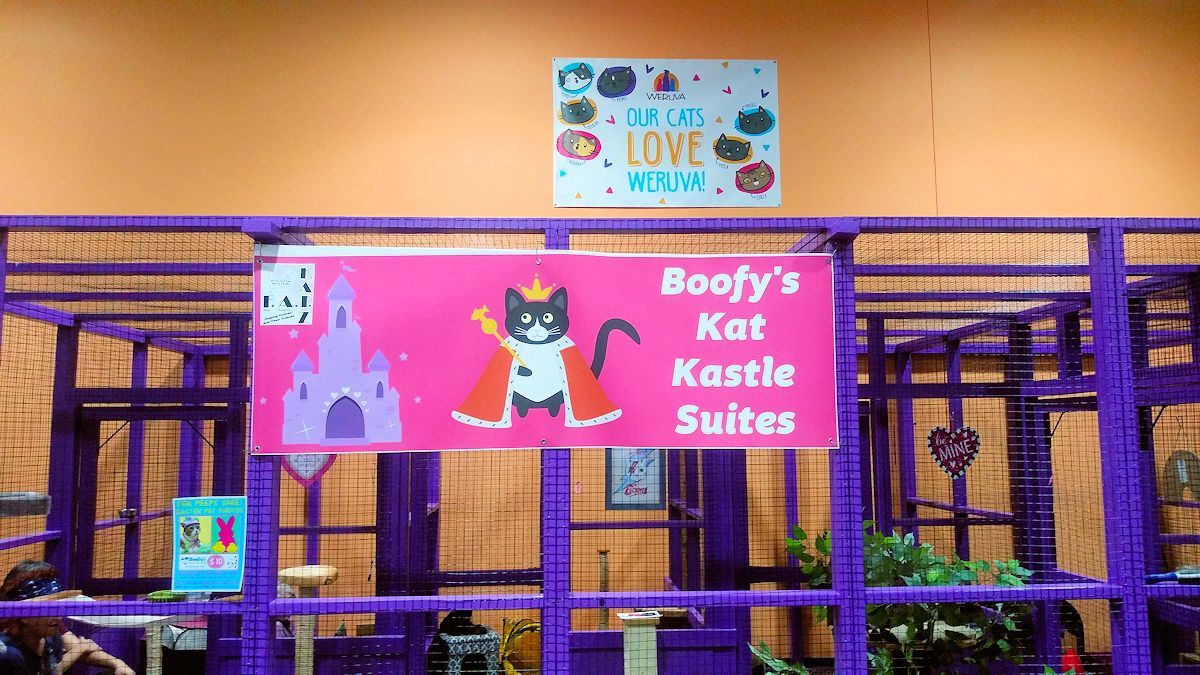 Here are the adoptable cats currently in residence at Boofy's Kat Kastle Suites! Stop by anytime during regular store hours to meet them (10am-7pm daily). Interested in adopting? Fill out an application form while you are visiting and we'll pass it along to F.A.T. Katz for review and follow-up! (Adoption approval is at the sole discretion of F.A.T. Katz.)
Keep up with the kitties of Boofy's Kat Kastle Suites by following their page on Facebook!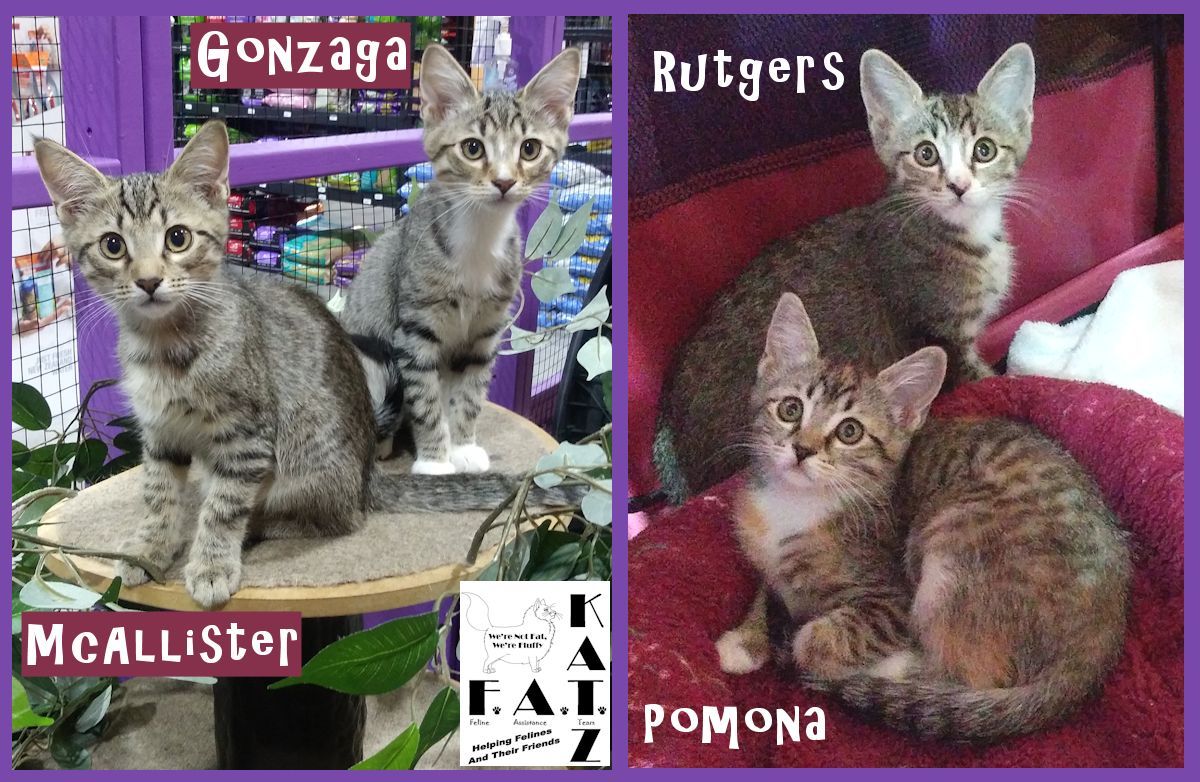 McALLISTER (male), GONZAGA (male), POMONA (female), RUTGERS (male): Kittens born 4/22/2022. This collegiate foursome is all about the fun! These friendly, adorable tabby babies love humans as much as they love wrestling and chasing one another.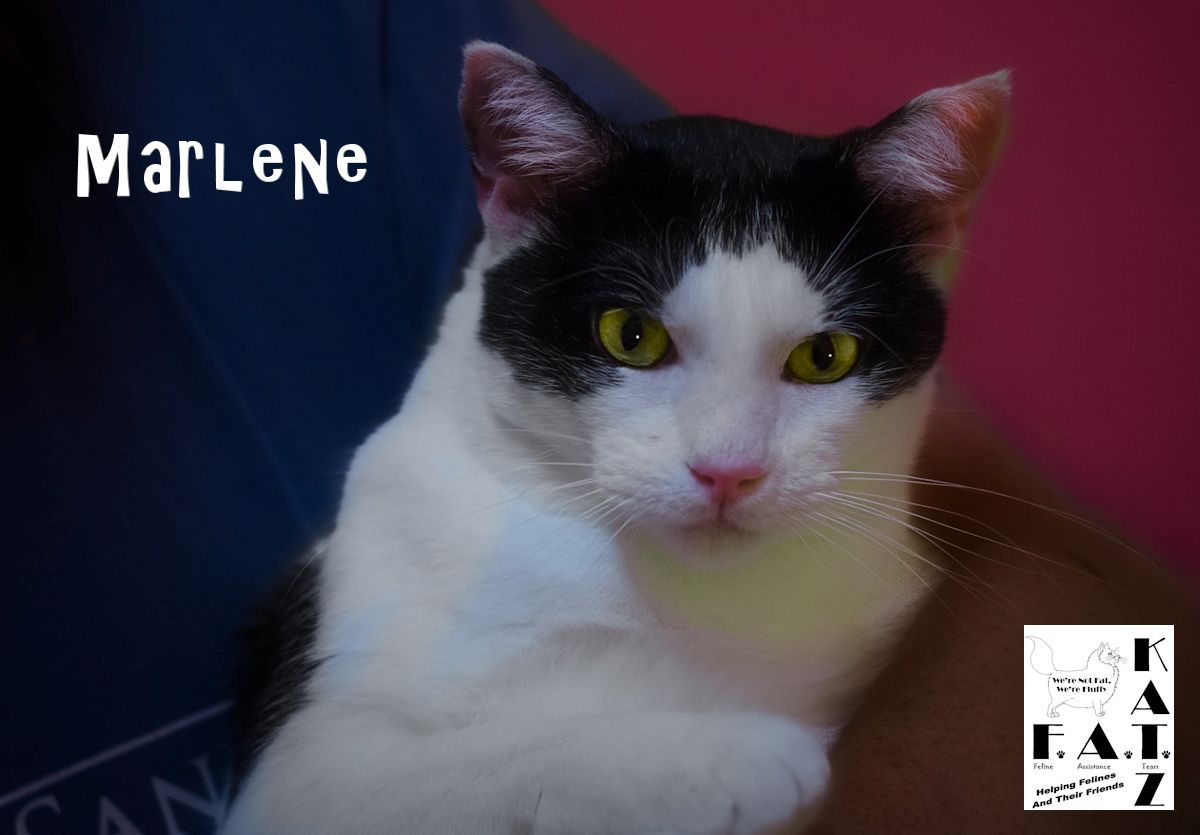 MARLENE (female): Adult cat born 10/2019. Marlene came to F.A.T. Katz as a young mother, still nursing her babies. With patience and love she now knows how great it is to be part of a real family, kitty friends included! She's a big fan of watching basketball on TV (not kidding!) and she loves hanging out on the couch by the fireplace.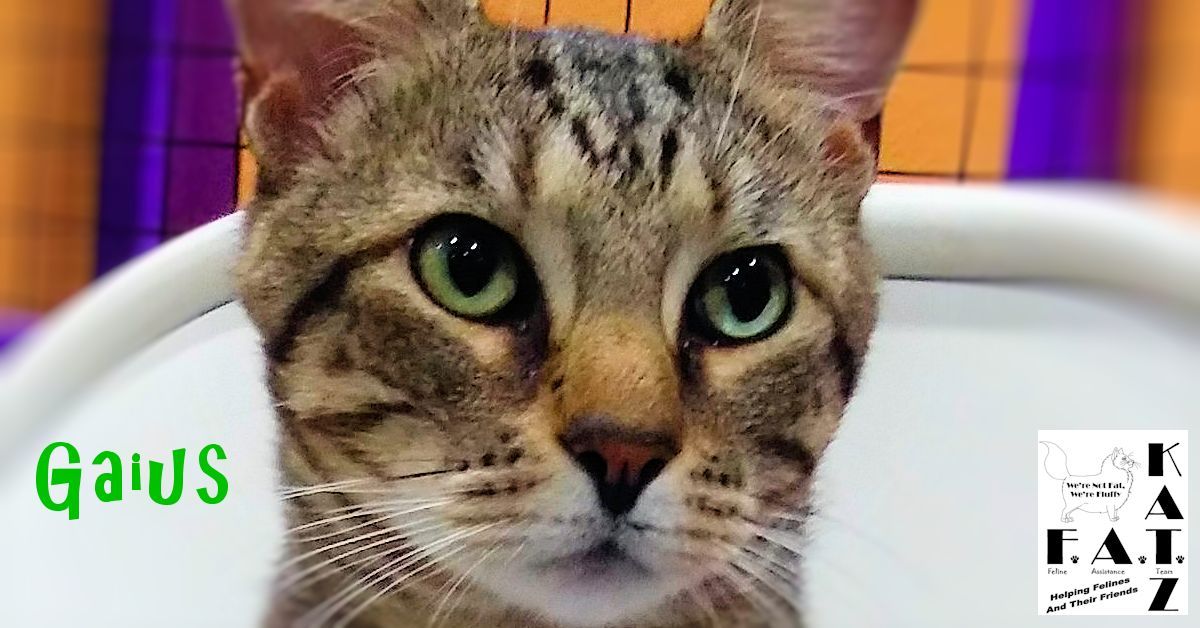 GAIUS (male): Adult cat born 5/2021. Gaius is a strikingly handsome classic tabby in search of the purrfect home! He's about a year old and was found as a stray at an apartment complex. Now that he's learned the joys of living a safe, indoor life, he's ready to provide conversation and companionship in exchange for good food and love.
---
Luigi attended Boofy's Feline Finishing School and was adopted from F.A.T. Katz in August 2018! Look at him run on his exercise wheel!
---
WE LOVE DOGS TOO!
Sometimes when you stop by Boofy's you may find a canine visitor hanging out with us. No, we don't offer boarding services, but we do serve as a temporary foster for our animal rescue partners.
Foster homes are the backbone of animal rescue, and we encourage you to become a foster for one of the many animal shelters and rescues in our area. In addition to providing love, care, and socialization, foster homes provide TIME for adoptable pets to find their forever families. Simply put, fostering saves lives.